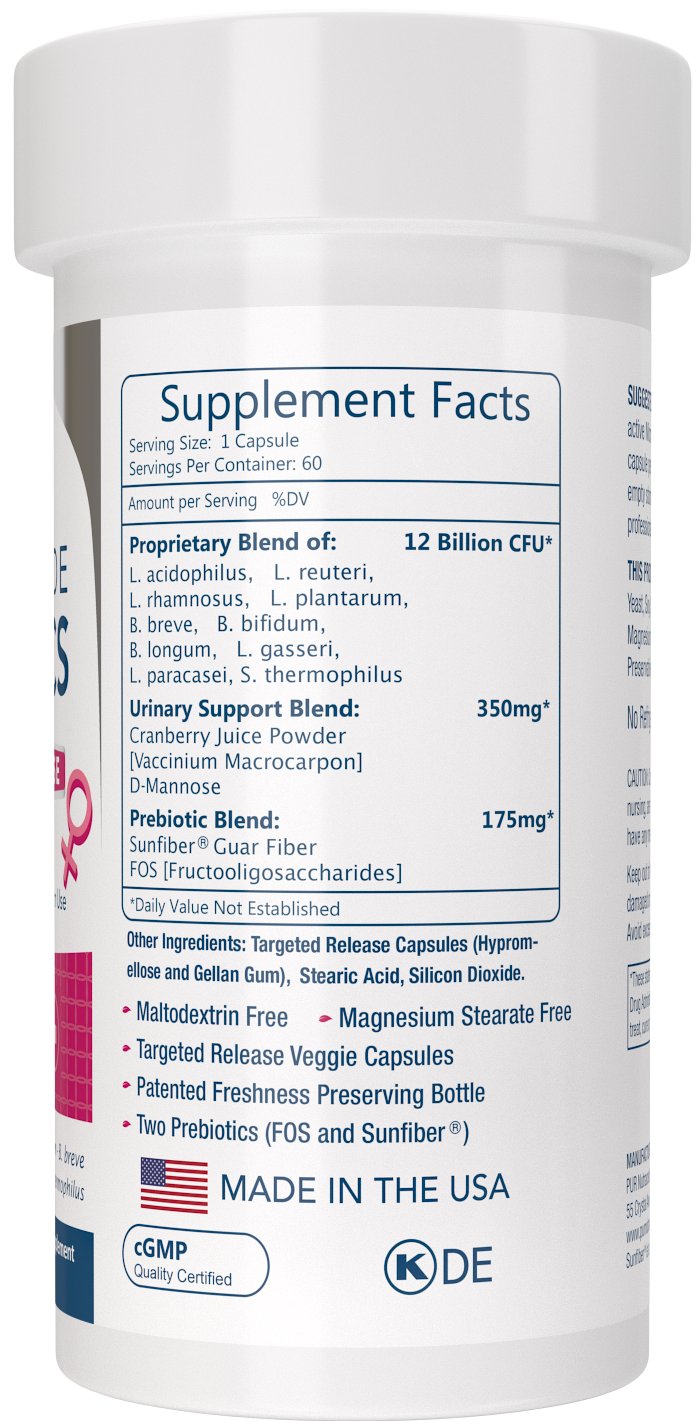 Supplement Facts Per Serving
Proprietary Blend of 12 Billion CFU (Colony Forming Units): L. acidophilus, L. reuteri, L. rhamnosus, L. plantarum, B.breve, B. bifidum, B. longum, L. gasseri, L. paracasei, S. thermophiles.
Urinary Support Blend of 350mg: Cranberry Juice Powder (Vaccinium Macrocarpon), D-Mannose
Prebiotic Blend of 175mg: Sunfiber® (Guar Fiber), Fructooligosaccharides (FOS)
Other Ingredients: Targeted Release Capsules (Hypromellose and Gellan Gum), Stearic Acid, Silicon Dioxide.
WOMEN'S 12B STOCK UPDATE
Our Women's 12B Probiotics are back in stock! We apologize for the inconvenience!
Women's Perfect Daily Dose
12 Billion CFUs of 10 clinically proven effective and allergy friendly probiotic strains: L. acidophilus, L. reuteri, L. rhamnosus, L. plantarum, B.breve, B. bifidum, B. longum, L. gasseri, L. paracasei, S. thermophiles.

One vegetarian capsule taken daily improves conditions such as Irritable Bowel Syndrome (IBS), Ulcerative Colitis, Crohn's Disease, Acne, Atopic Dermatitis, and Allergic Rhinitis.

Lactobacillus paracasei - Probiotic strain clinically proven to maintain good vaginal health.

Lactobacillus gasseri - Probiotic strain clinically proven to resist Helicobactor Pylori.

D-Mannose + Cranberry for urinary tract health; UTI prevention.

Prebiotic fiber (Sunfiber®) built-in to each targeted release capsule.

100% made and sourced in the USA! Completely pure and free of "no value added" fillers. Vegan, non-GMO and Contains no: Gluten, Dairy, Wheat, Eggs, Yeast, Soy, Sugar, Salt, Animal Derivatives, Artificial Flavors, or Preservatives.

60 Vegetarian Capsules (2 Month Supply).

Innovative state of the art packaging removes moisture, oxygen and light. No refrigeration required. 2 year minimum shelf life.

Kosher Certified
BUY ONLINE NOW BELOW: